Strathearn is proud of its wide ranging extra-curricular sports programme and while hockey is traditionally our main winter team sport, we do offer a number of different activities including netball, cross country, badminton, gymnastics, dance, football and fitness. During the summer term athletics, tennis, cricket and rounders are on offer. The programme is organised to complement the non-sporting activities offered after school and where possible provides pupils with the opportunity to participate in a varied extra-curricular programme.
From this sound platform, pupils' skills and abilities are nurtured and developed. In the range of sports offered we have pupil representatives at local, regional, national and international level in various age categories.
Those pupils who have a keen interest in other sports such as horse riding, golf, trampolining, squash and swimming are supported by the PE Department and many represent the school in competitive events.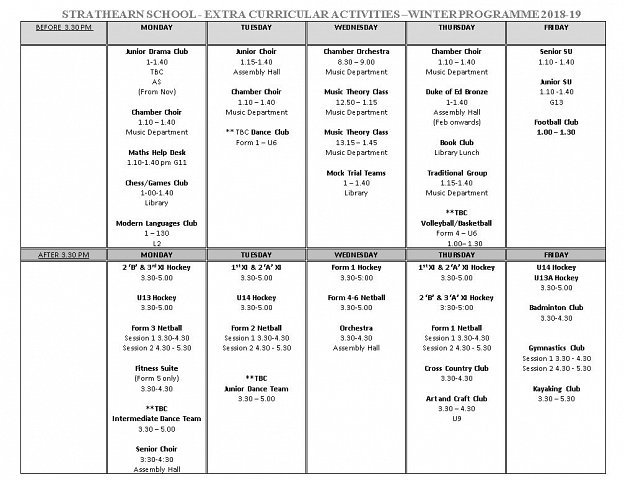 SPORTING SUCCESSES 2017/18
Hockey – Ulster Schools Senior Shield Winners; Ulster Schools 2nd XI Plate Runners Up; Ulster Schools Gibson Cup Semi-finalists;
Cross Country – Irish Schools - Minor Champions, Ulster Schools - Overall Champions plus Minor and Intermediate Champions; Co Down - Mini, Minor, Junior, Intermediate and Senior Champions.
Athletics – Ulster Schools - Overall Champions plus Minor and Senior Champions, Co Down - Minor, Junior, Intermediate and Senior Champions
Tennis – Ulster Schools - Senior Champions; Intermediate 'A' Cup FInalists; Intermediate 'B' Plate Finalists; Junior Plate winners;
Sports Hall Athletics - Ulster U13 runners-up
Swimming - Ulster Schools - Intermediate McMahon Cup Champions
Badminton - Ulster Schools - Minor Girls Division 2 runners-up, Year 8 Division 2 Champions
Cricket - Ulster - U13 Super 8s runners-up
Netball - NI Schools - Minor B League Champions, Senior B League Champions