Maths Department
"The essence of Mathematics is not to make simple things complicated, but to make complicated things simple."-S. Gudder
The Mathematics department is made up of 4 full-time and 3 part-time teachers including the head of department, all of whom are eager to engage their students with the subject through a variety of approaches. In the junior school we aim to make Mathematics more fun and accessible with an emphasis on active learning. The use of iPads has been incorporated into all KS3 lessons. In the senior school the department enjoys great success in public examinations with 100% pupils having achieved grade C and above at GCSE level in 2018. This trend leads to a high uptake of Mathematics at A level including a significant number of girls who complete the course in one year. Mathematics was the most popular A-Level choice in 2018. A good number of these girls then go on to study Further Mathematics in their final year at Strathearn, preparing them well for many Mathematical, Science and Engineering based degree courses.
Both junior and senior pupils have the opportunity to take part in a variety of mathematical competitions and challenges. The most popular of these are the UKMT Maths Challenges which take place each year in November and February. If you wish to try some of these brain teaser questions you should speak to your Maths teacher who can show you where to find them! A number of girls won gold certificates in 2018 with 2 girls progressing to the Junior Kangaroo stage. This stage of the competition is based on results in the Junior Challenge and only the top 2% of participants are invited to compete.
Form 3 pupils take part in the Open Data Challenge sponsored by The Department of Finance. Their most recent entry was successful in winning £1000 for the school.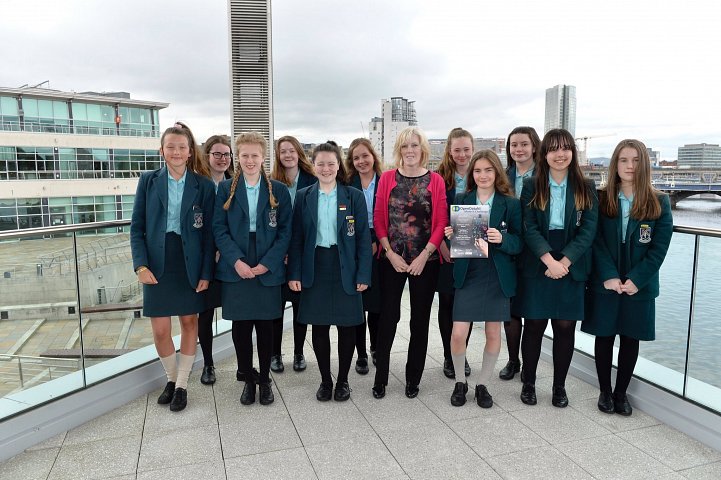 We support our pupils weekly through a Maths helpdesk at lunchtime which is staffed by teachers and A-Level Maths pupils.