"Your diet is a bank account. Good food choices are good investments." Bethenny Frankel.
When we hear the term, 'Home Economics' most of us think about cooking and food. Home Economics is about much more than food however. Home Economics combines aspects of science, nutrition, cooking, parenting skills and finance. Students learn about the inter-relationships between diet, health, family, home and choice and the management of resources.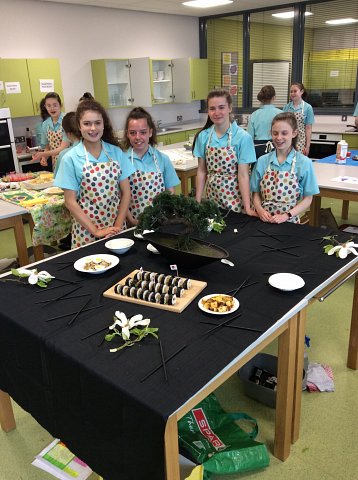 Home Economics gives students a valuable insight into:
what's really in the food we eat;
how to plan and cook nutritious and economical meals;
how to choose the best food for themselves and their family;
the importance of good nutrition and health; and
the role of the consumer in modern eating patterns.
Home Economics delivers vital skills that enable students to lead effective lives as individuals and family members as well as members of the wider community.
Strathearn Home Economics Department has:
Three subject specialist teachers;

One specialist Home Economics Technician;

Two fully equipped Home Economics classrooms with adjoining ICT suites;

One fully equipped Technician's resource base/food preparation room.
The Strathearn H.E. Department aims to:
develop pupils' knowledge, understanding and skills (including practical skills) required for Home Economics: Food and Nutrition; Child Development

develop pupils' knowledge and understanding of human needs in a multicultural society;

develop a critical and analytical approach to decision making and problem solving;

examine issues that affect the quality of human life, including an appreciation of diversity;

evaluate decisions so that pupils develop as informed and discerning consumers;

develop an interest in and appreciation of the diverse range of food now available; and

actively engage pupils in studying Home Economics to develop as effective and independent learners.