Dear Parents,
As we reach the end of a busy couple of weeks with results distribution, induction sessions and classes for Form 5 and Upper Sixth, I would like to express my thanks to you and your daughter(s).
It has been an absolute delight to see the girls return to Strathearn and hear their "happy" voices in the corridors and classrooms. Next week (Tuesday), we have the whole school returning and I would ask for your assistance with adhering to the new traffic flow patterns and reinforce the importance of social distancing with your daughter(s).
Last night the Minister of Education wrote to all School Principals recommending that pupils wear face coverings in corridors and other communal areas. We would therefore ask that you supply your daughter(s) with a face covering which is plain and neutral in colour for this purpose. Should any pupil forget to bring one, there will be a supply of disposable face coverings available at Reception.
We have now updated the guidance for the 'reopening of Strathearn School' in line with this information and have reissued it with this email for reference purposes. You will also find attached the Department of Education letter about 'Education Restart', however, should you require any further information it can be found at www.education-ni.gov.uk/education-restart-information-parents-and-carers
We will continue to monitor and manage the situation on a daily basis to ensure that we maintain a safe environment for the girls.
Although the school day and our internal routines may have changed, we will always keep the wellbeing and academic progress of our pupils at the heart of any decisions we make.
We do hope that you and your family keep safe and well and look forward to working together to move forward in these challenging times.
Yours sincerely,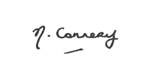 N Connery
Principal