Why Study Business Studies?
Business touches on nearly every aspect of modern society, and so studying business is useful for both future careers and a student's personal life, as well as being actually very interesting to study. Business Studies is one of the most popular fields of study at universities worldwide, and there are very good reasons for this.
Business students are in high demand with employers and are some of the most employable. Students will have a wide variety of possible career options open to them upon graduation.
Business is both a theoretical and a practical discipline, meaning that students not only gain a great range of knowledge, but also learn the skills needed to apply this knowledge to real life settings, again assisting with employability.
Business Studies aims to give pupils the opportunity:
to demonstrate a knowledge and understanding of terminology, principles and decision-making procedures
to develop the ability to use and apply appropriate skills, concepts and techniques
to analyse problems and issues
evaluate arguments and evidence, making informed judgements
to develop the skills of numeracy, literacy and ICT
Business Studies can be studied at GCSE, AS and A Level.
GCSE Business Studies
Unit 1: (Examination 40%)
Creating a business
Marketing
Business Operations
Unit 2: (Examination 40%)
Human Resources
Business Growth
Finance
Unit 3: (Controlled Assessment 20%)
Time is available during class to prepare for the controlled assessment and pupils will be supervised under exam conditions during the completion of the task. Guidance regarding both the research and report-writing is issued by both CCEA and Strathearn School.
AS / A Level Business Studies
The A-Level Business Studies course contributes to an understanding of business and enterprise and helps students develop many of the skills and attitudes required for employment. This course can give valuable preparation for any career, not just in business and finance. Students develop skills such as research, decision-making, problem-solving and evaluation of information. These skills will assist students in any career path that they choose to follow
AS Modules (100% Examination):
AS1 Introduction to Business (Examination 50% of AS / 20% of A Level)
AS2 Growing the Business (Examination 50% of AS / 20% of A Level)
In both of these units, students must answer two compulsory structured data responses based on stimulus material.
A Level Modules (100% Examination):
A2 1 Strategic Decision Making (Examination 30% of A Level)
Students must answer five compulsory structured data responses based on stimulus material.
A2 2 The Competitive Business Environment (Examination 30% of A Level)
Students must answer six compulsory structured data responses
Careers
Business Studies can lead directly to a wide variety of careers in both the public and private sectors e.g. Management, Accountancy, Entrepreneurship, Banking, Business Law, Finance, Human Resources, Public Relations, Marketing, Advertising, Production or Teaching. A background in Business Studies is also a welcome addition in career areas often not directly linked with the subject, e.g. where management concepts, budget control and other contemporary issues are becoming increasingly important.
Many students who take Business Studies at A Level continue with the subject at university, often combined with other disciplines such as marketing, human resources, accounting and finance, economics, languages and law.
Trips and Extra-curricular
We support the specification by embracing the many opportunities on offer through our subject. For example, we organise industrial visits to Tayto and IKEA. We also compete in the Stock Market Challenge (Form 4) and in the Queens University Investment Challenge (Lower 6).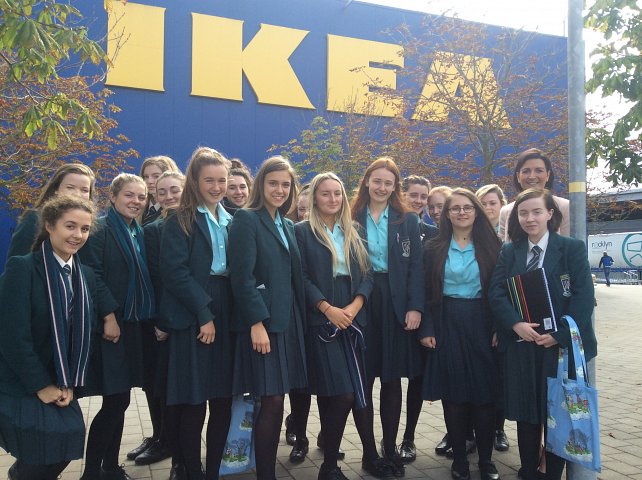 Achievements
The department has a very successful track record in public exams, always exceeding the Northern Ireland average for grammar schools at both GSCE and A Level in Business Studies.
In 2017 one of our students achieved 1st in Northern Ireland in GCSE Business Studies and received her award at the CCEA Celebrating Excellence Award Ceremony in Titanic Belfast.
Web links
CCEA Microsite for Business Studies Link
http://issuu.com/gavinwalker90 (Business First Magazine)
www.bbc.co.uk › Schools Home › Secondary - Ages 11-16
www.bbc.co.uk/learningzone/clips/