2006-2007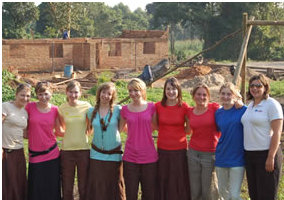 In July 2007, a team of staff and pupils from Strathearn School went out to Uganda with 'Abaana', a Bangor based charity, to build a home for street kids and work with pupils in one of the primary schools. This proved to be a very successful venture and a strategic experience for the individuals and the School, and resulted in a determination to continue to support the education of young people in Uganda.
SU Work Party Uganda Summer 2007 Video (You Tube Version)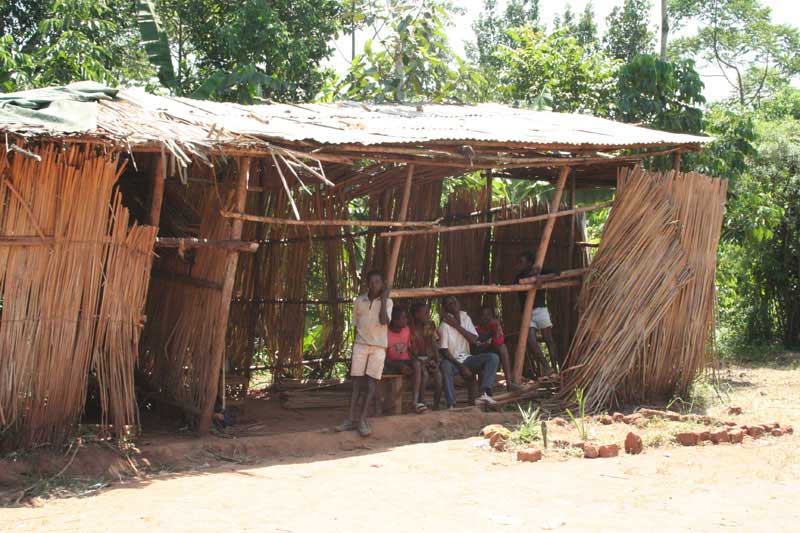 While on that visit to Uganda we were able to see the work of Katalemwa Primary School on the outskirts of Kampala. At that time Katalemwa School catered for children in Primary 1 and Primary 2 but the director, Edward Katalemwa, had a vision to roll out education right up to Primary 7. In 2007 Katalemwa Primary was meeting in a structure made from papyrus walls and a tin roof and it soon became the vision of Strathearn School to provide the funds to build a new school structure at Katalemwa. Between September 2007 and June 2009 a number of pupils and staff at Strathearn worked hard to raise the £50,000 needed to build a permanent building at Katalemwa Primary. The school raised money through form efforts such as bun sales, Strathearn's Got Talent, marathon relay teams and a school fashion show. All of these events, along with help from Strandtown Primary School, have assisted in raising the money for Katalemwa
View Uganda School Project Video
2008-2009
In July 2009 two teams, each of 20 girls plus staff, ventured back to Uganda to help build the new school at Katalemwa. During those two week teams the girls were involved in the construction of the school and working with the children there.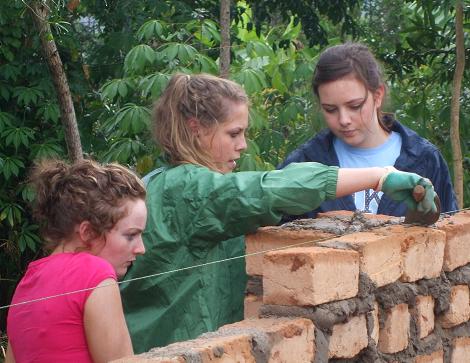 Katalemwa School, when complete, will consist of two blocks with a total of seven classrooms. During our time in Uganda we were able to complete one of the classroom blocks and almost finish the second one (it still needs a roof which will be finished by a team of Uganda builders). The school still has to be plastered and painted but it is hoped that it should be complete and open for children by October or November 2009.
Towards the end of our time working at the primary school, the director Edward Katalemwa asked if he could change the name of Katalemwa Primary to Strathearn Primary as a gesture of thanks to all those from the Strathearn community who have helped to make the building of this primary school possible. All those involved found this most humbling.
As well as the construction work, the teams were also involved in working with the 'Abaana' street children project. We were able to go and work with a number ofKampala's street children. Visiting the street children project was one of the most difficult experiences for our team as we met children as young and ten or eleven who were living rough on the streets.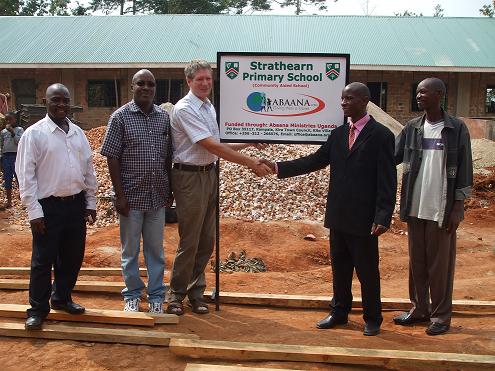 We were able to spend some time playing and talking with these children, providing basic first aid and some food for them. Such an experience left us with difficult questions about why children are still allowed to live like this and it made us appreciate, even more, the work of 'Abaana'. Our hope is that through schools like Katalemwa/Strathearn Primary children can have a better future.
Katalemwa/Strathearn Primary School is almost ready for students. When it is complete it is hoped that about 300 or more pupils will be able to attend the school each day.
Well done to everyone who has been involved in this project.
2010-2011
In July 2011 20 girls and 5 staff returned to Uganda for a third time to complete the building work at Strathearn Primary. Over two weeks we built a 3 classroom nursery block to support the ever growing pre-school work as well as constructing a school kitchen to allow staff to prepare and serve a hot meal for the children each day. As well as building these two structures we decorated the school building with pictures of butterflies and flowers. Over the course of the 2 weeks we found plenty of opportunities to spend time with the children and staff at the school.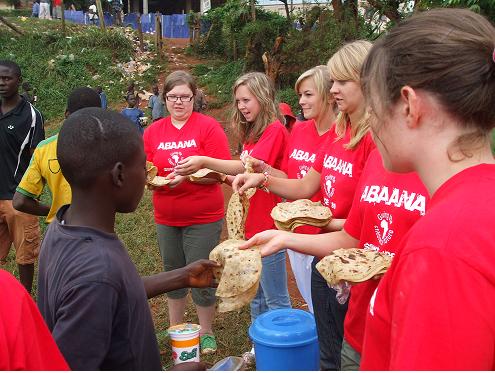 On Friday 21 October 2011 Strathearn School was pleased to present Abaana with a further £20,000 towards our school Uganda project (l-r, Mr Manning, Caitlin Butler, Amanda McConkey, Anna McClatchey, Mr Smith).
Over the last five years we have raised over £80,000 to build a home for 24 street children, Strathearn Primary School for 400 children, a nursery department and a kitchen at Strathearn Primary. Well done and thank you to everyone who has been involved in fundraising, travelling to Uganda and supporting our work. We know that Strathearn Primary will make a huge difference in the lives of thousands of children for many years to come.
2012 - Present
The Strathearn School community is continuing to raise money to support the work of Abaana at Strathearn Primary and for Abaana education projects in general. Each year at our carol service the retiring offering has been for our Uganda project. We continue to keep contact with Strathearn Primary and are updated by the Principal on the progress of the children and staff there.